Q YOUTH ACADEMY JETS REFEREES
The JETS referee program is a proud feature of the 2023 Q Youth Academy.
The Junior Emerging Talent Squad (JETS) program provides a pathway for youth referees, our stars of the future, that display the potential to progress to the elite level.
This is a specifically designed program that caters to the unique needs and requirements of someone committing to touch football refereeing as their core role in our sport.
2023 JETS REFEREE LIST
The 2023 JETS referee team is now finalized, with invitations circulated to those selected.
Congratulations to all the Referees that have been selected in the JETS program.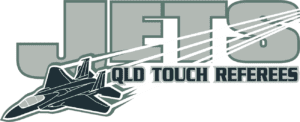 Riley Gleich (Central Queensland)
Dylan Bryant (Brisbane)
Isabel Watt (Central Queensland)
Timothy Rae (South Queensland Border Districts)
Jasper Bowtell (South West Queensland)
Ashton Sykes (Brisbane)
Ella Grant (Brisbane)
Solomon Tucker (Sunshine Coast, Fraser & Burnett Districts)
Sarah Butwell (South Queensland Border Districts)
Tameka Dyne (South West Queensland)
Samuel Chittleborough (North Queensland)
Jake Elias (Brisbane)
CLICK HERE to see more about the 2023 Q YOUTH ACADEMY.