Get your school involved today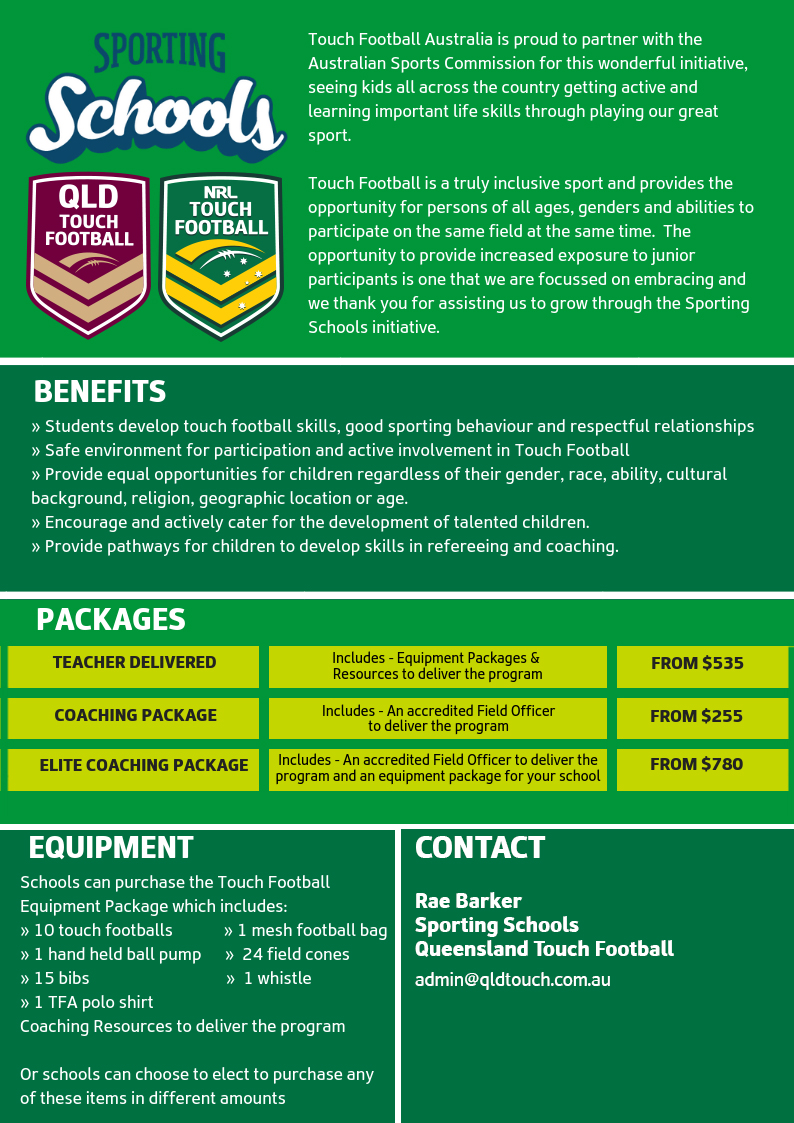 We are excited to be one of the sports chosen to be involved in Sporting Schools, working closely with primary schools around Queensland and Australia to deliver touch football to school students. Queensland Touch Football appreciates the support Australian Sports Commission with this program.
Touch football is a sport that provides an unobstructed, continuous pathway for both boys and girls to participate equally, often on the field at the same time. At the end of 2015, touch football had 672,818 participants across the country. We are also committed to achieving a unified workforce through the implementation and growth of our Field Officer Program.
We offer your school the opportunity to be involved in the Sporting Schools Program in 2019.
Queensland Touch Football offers a range of Field Officer (coach) delivered or teacher delivered packages to suit all needs of your school, as well as other modified services that Sporting Schools funding can be used for.
Please visit the Sporting Schools website for all information on Sporting Schools including:
How your school can apply for funding

Closing dates for funding applications

How much funding your school is entitled to

The packages Touch Football Australia offers
Once you have received notification of your funding, you can access the Australian Sports Commission's Sporting Schools Online Booking System, submit your booking request and we will make arrangements for your selected package to be delivered at your school before you know it!
Please read through this services manual to find information on;
We thank you for your involvement in the Sporting Schools Program and the contribution you make to promoting and delivering touch football in schools!
If you would like further information on the program, please contact Rae Barker at admin@qldtouch.com.au or phone 07 3367 6250.
Sporting Schools and Affiliates
The Sporting Schools Program is a fantastic opportunity for affiliates to promote their junior competitions and develop players and coaches in their area.
For further information on how affiliates can get involved in the Sporting Schools Program, please contact Rae Barker at admin@qldtouch.com.au or phone 07 3367 6250.