Q YOUTH ACADEMY JETS REFEREES
The JETS referee program is a proud feature of the 2022 Q Youth Academy.
The Junior Emerging Talent Squad (JETS) program provides a pathway for youth referees, our stars of the future, that display the potential to progress to the elite level.
This is a specifically designed program that caters to the unique needs and requirements of someone committing to touch football refereeing as their core role in our sport.
2022 JETS REFEREE LIST
The 2022 JETS referee team is now finalized, with invitations circulated to those selected.
Congratulations to all the Referees that have been selected in the JETS program.
Please click on the logo below to see the full list.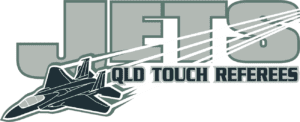 CLICK HERE to see more about the 2022 Q YOUTH ACADEMY.