The development of the Queensland Touch Football Strategic Plan is a significant step for our business. We have made a commitment to ensure that the process to create and deliver this strategic plan was done with the upmost consideration of all stakeholders who engage and operate within our governing body.
The process began in understanding our Why? Why it is that we do what we do? What is the driver of every person in the business? From Game Development Officer, to Administrator, to Chief Executive Officer, no stone was left unturned. Our planning days became the genesis of our strategic plan as the team identified 10 unilaterally important business pillars, the cogs that keep our business turning. With our values and our mission identified, each pillar was researched, and a game plan was formulated.
Our vision is to UNITE, INSPIRE and GROW. UNITE our community, to INSPIRE greatness in everyone who touches our sport and to GROW our game from grassroots, social and elite levels. To achieve these outcomes, our pillars and our why will be central to everything we do.
The targets we hope to achieve are ambitious, but they are important steppingstones towards a stronger and more dynamic organisation. It is important to understand and note that not all things important to our business can be measured with a standard Key Performance Index. The satisfaction, support, and kinship between all arms of the organisation is paramount and will be at the forefront of all goals and decisions.
We are excited to achieve these goals in collaboration with our touch football community and invite the opportunity that these objectives bring to our team and Touch Football over the next three years.
Greg Denny
Chief Executive Officer
Queensland Touch Football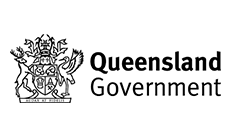 The Queensland Government provides support to Queensland Touch Football to enable Queenslanders to participate in sport and recreation activities.
Strategic Plan 2022-2024
Single page summary.