Referees play a vital role in Touch Football, ensuring our game is played in a fair, safe and enjoyable environment for all participants.
Becoming an accredited referee is an important step in ensuring that you are equipped with the knowledge of the Rules of the game, but also the latest on-field game information, and skills to manage and create a safe and enjoyable environment for all. It is also a great way to remain fit and active and participate in our game.
Touch Football Australia has a six-tier accreditation: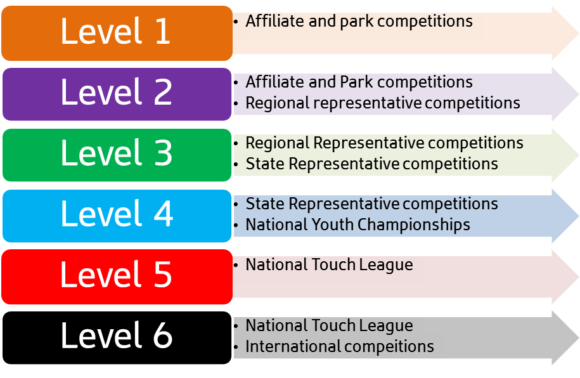 Click below to view the State Referee Team
Officials
Rules
CLICK HERE TO VIEW ALL STATE AND NATIONAL POLICIES.
Why become a touch football referee?
EARN SOME MONEY. It's a great way to make extra cash at social touch competitions.
DEVELOP SKILLS. It's a great way to develop leadership skills and confidence.
GET BETTER AT TOUCH. It helps improve your Touch Football game because you'll develop a better understanding of the sport.
MEET PEOPLE. You'll become part of a great community and make new friends.
TRAVEL. You'll get access to referee at exciting state and national events held around the country – even around the world for events such as Touch World Cups.
TICK OFF GOALS. If you want you can work your way up through the pathway from Level 1 to Level 6 referee as you broaden your skills, experiences and networks.
How to become an accredited referee
Interested in becoming a Touch Football Referee? Begin your accreditation straight away by completing the required theory online and attend a practical component when available in your region.
Head over to Touch Football Australia's online Learning Management System, The Nest, powered by etrainu. The Nest is where you'll find online education for refereeing, coaching and more. Start by becoming a Level 1 Referee, then you can further your education to work through higher levels.
Click here to view the practical courses in your region.