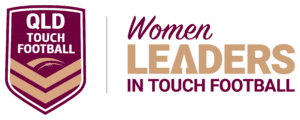 In addition to the Women Leaders in Touch Football program, the ASC grant will fund a group of selected coaches and referees from our six (6) member regions pursuing coach and referee pathway development opportunities. These candidates will be supported and recognised as leaders in their fields, empowering them to inspire young females in their respective regions.
PROGRAM OBJECTIVE
Provide pathways for women to pursue Elite, Talent Coaching and Referee Coach Accreditation to increase leadership capability in both regional and local associations within Queensland.
PROGRAM INFORMATION
1 April- 1 October 2023
Accreditation for Female Referees and Coaches (dates tba)
24 women will be provided the opportunity to upskill through accreditation courses free of charge.
ELIGIBILITY
Meet accreditation course prerequisites where applicable;
Be nominated to complete accreditation by your regional body.
Be minimum of 18 years of age at the time of the course;
Be a current financial member of a Queensland Touch Football or a current employee or board member of a state, regional or affiliate body;
Hold a 'Working with Children' Blue Card or Exemption Card;
Have demonstrated an eagerness to provide leadership within their touch football environment;
Demonstrate positive behaviours and an alignment to Queensland Touch Football's values
COST
Thanks to the Australian Sports Commission, Women Leaders in Sport Grant, there is no cost for participants in the 2023 QTF Women Leaders in Touch Football program.
''The Australian Sports Commission manages the Women Leaders in Sport program through the support of the Office for Women"
HOW TO REGISTER MY INTEREST
Applications are open and will close 9.00am Friday 24 February 2023.
Complete the following online Expression of Interest form.
SELECTION PROCESS
Following the close of the expression of interest form, Regions will be sent a list of their participant EOIs to endorse and are asked to preference nominations. Preferences will need to be submitted to QTF by COB Friday 24 February 2023.
If you have been approached to complete your accreditation by your regional body, you are not required to complete this form.
Brisbane
Stephen Swan
E: stephen.swan@qldtouch.com.au
South QLD & Border Districts
Lauren Dayberg-Muir
E: lauren.dayberg-muir@qldtouch.com.au
Sunshine Coast, Fraser & Burnett Districts
Nattalie DeRossi
E: nat@sctouch.com.au
South West QLD
Jodie May
E: admin@swqtouch.com
North QLD
Yvonne Searle
E: yvonne@nqtouch.com.au
Central QLD
Tracy Upton
E: cqtouch@bigpond.com
If you have any queries regarding QTF Women Leaders in Touch Football, please do not hesitate to contact QTF Sport Operations Manager, Sam Heath on 0417419837 or sam.heath@qldtouch.com.au.