We've all heard the age-old 'state against state, mate against mate' – but husband against wife?
Touch football's golden couple Emily and Dylan Hennessey enter another State of Origin campaign this weekend with their sights firmly set on bringing the trophy back home, but only one will have bragging rights at the end of the series.
Q: Tell us about you? When did you get married, and how did you meet?
EH: We got married in September 2012 – just recently celebrated our sixth wedding anniversary. We met when we were both 14 years old at the National Schools Tournament in Darwin. Dylan was in the Under 15 NSW Boys team and I was in the Under 15 Queensland Girls team. We became really good friends and stayed in contact ever since meeting. We dated for a little while when we were 15yrs old but a relationship was hard obviously living interstate.
Q: And you have three beautiful children now?
EH: Yes, Brooklyn is six, Mila is four and Tyra is two.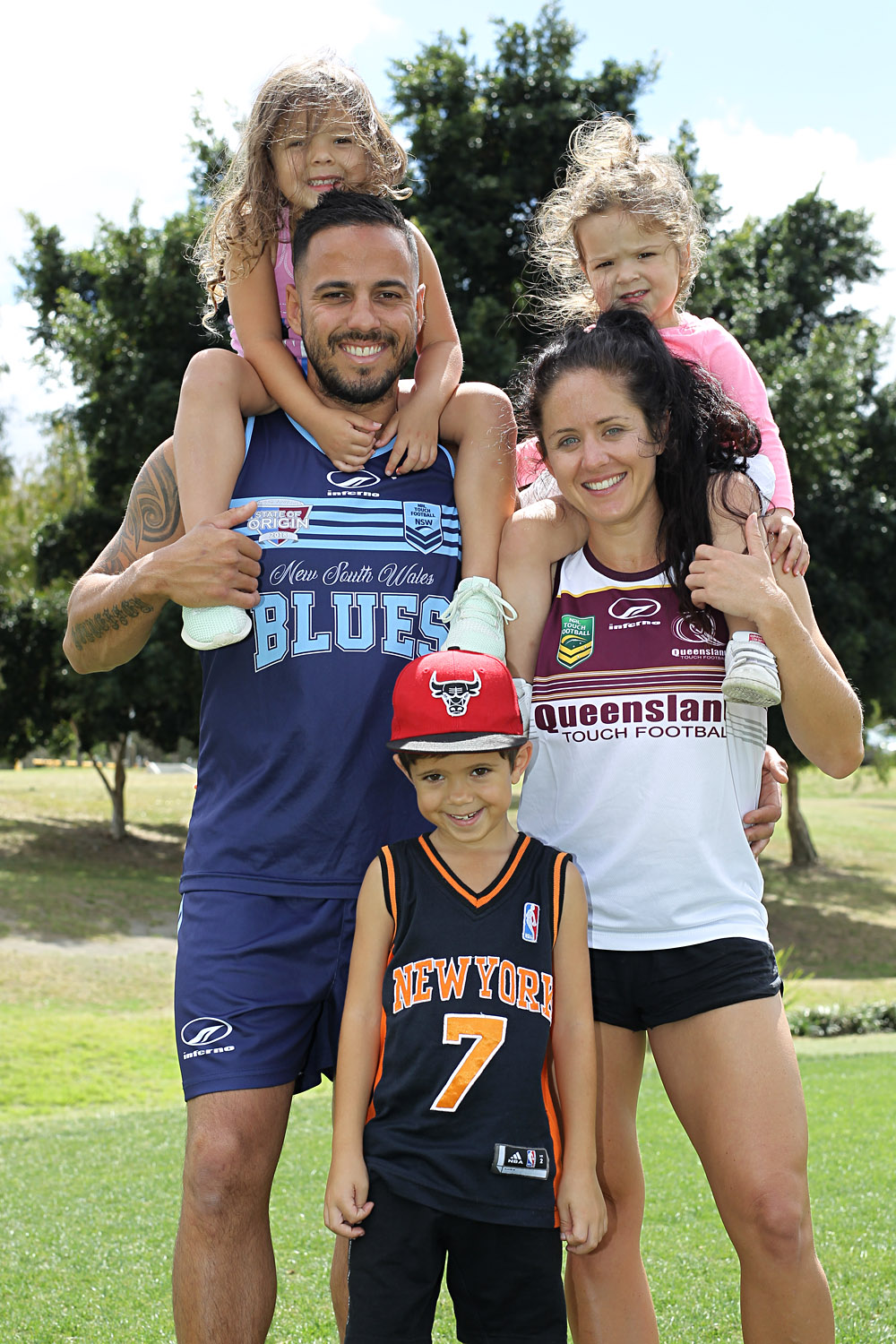 Q: What do you both do for work?
EH: Dylan is a plumber and just started running his own business with NBN. I'm a high school teacher.
Q: Emily, you are definitely a Queensland girl at heart! Did you grow up here?
EH: I was born and raised in Brisbane and moved down to NSW in 2010. We lived on the Central Coast for eight years until finally making the move back up to Queensland in July this year due to health reasons with the kids, as we needed more family support.
Q: Do you train together? Play together? Some couples would struggle with being together so much (at home, at sport) – how do you balance that and have your own time as well?
EH: In all honesty we don't get to spend much "quality time" together. Dylan is at work from 4.30am in the morning and gets home late, and I work full-time teaching. Then we have different training schedules obviously playing for different teams. His training will be at different locations/weekends/weeknights to what mine are. I do a lot of my own training without him, as he isn't the biggest fan of doing "extras"! So a lot of our time is spent apart more so than together. We look forward to tournaments as it something that we actually do together and to have the kids there watching us is pretty special.
Q: The introduction of the NRL Touch Premiership was obviously very exciting for the sport. You have both been around a long time – how did you feel about this historic moment, and how was it playing in the Premiership? Did you ever think you'd represent an NRL club?
EH: It was pretty exciting to hear of the initiative starting. For me personally, I felt a little sad knowing that I am coming towards the end of my representative playing career and I might not be around to see how far this will eventually take the sport. In saying that, I felt very honoured to be a part of the very first one, and had an amazing time playing in such a great atmosphere.
Q: Living back in Queensland – how has that been? What was the motivation for returning?
EH: The plan for us was to always move back to Queensland at some stage, it just happened a lot quicker than expected with continuous health issues with all three of our children. We pretty much lived at Gosford Hospital on the Central Coast and the ongoing joke was that they had a bed with 'HENNESSEY' written on it just waiting for our next visit. At one stage I had all three kids in hospital for different health issues – Brooklyn had a rare tumour in his head that needed numerous operations, Tyra was on life support for collapsed airways and had a week in ICU in Sydney, and Mila had reoccurring bouts of pneumonia that caused collapsed lungs and hospital stays. I was trying to hold down a fulltime teaching job, be the best mum I could be to our three kids, whilst trying to keep myself fit enough to play for Australia in the sport that I loved. Life was very stressful, and we made a quick decision to pack everything up and move. Dylan will be moving up around Christmas as he had to stay to finish renovating our house to sell and he started his business the same time as us moving. We hate living apart but we know it's only for a short time and he comes to visit us on the weekends that he is not working/training. We have always supported each other's commitments in regards to work and sport and that is why we are able to achieve the things we do in our relationship.
Q: Emily, tell us about the Queensland Women's Open team this year. How do you think it's shaping up? What do you think your chances are against NSW, and what will be the key to beating them?
EH: I have been playing in the Queensland Women's Open Team since 2010. I have missed some due to injuries but played the last one in 2016 when Tyra was 13 weeks old. We have had a number of training camps already leading into this series and we are happy with our form. Origin is so tough and to come up against a NSW team with girls who play together so regularly in comparison with our team who come from different clubs/regions, it will obviously be tough, but we have such a good mix of young talent and mature heads that hopefully we can get the job done.
Q: Dylan – same questions!
DH: I have played for the NSW Open Men's team since 2010 and every year it is a massive battle between the states. The NSW Mens team is a different team than usual this year. There are a few main players missing from the team due to personal reasons, but the guys filling in are currently on fire for their affiliates and I have every faith in them that they can help us get the job done.
Q: How much longer do you both feel you can keep competing at this level?
EH:  At Opens level, I want to play the next World Cup in Malaysia and then I will hang my boots up for Australia. Both Dylan and I have always spoken about playing together in the older mixed divisions when we finish up with Opens. I always told myself that when the kids start having commitments with their own sport I would slow down with my own. I would still love to play the NRL Touch Premiership for another year or two and I will always run around socially, but competitively I would say in the next two years I'll be finished. Dylan on the other hand, as long as the injuries hold off and the coach keeps picking him, I would say he will keep on playing forever! I am more of a runner, which is harder as you get older. Dylan is a ball player, so he can get away with not running as much!
Q: Are either of you interested in continuing to be involved in the sport when you finish, perhaps in a coaching capacity or playing masters?
EH: Being a high school teacher I think I will head down more the path of coaching the younger school aged girls.
DH: I am looking forward to playing the mixed masters divisions with Emily when we finish up playing Opens. I would love to coach our kids as they get older and get involved with the sport.
Q: People are amazed at how you've been able to come back to playing from not just one child, but three! What are the challenges with being a mum of three and playing at the top level, and what has motivated you to come back each time?
EH: I have always been very self-motivated and don't need other people to train with or keep me on track. If I set a goal for myself I work as hard as I can to achieve that goal. After each child I always had an upcoming tournament that I wanted to be a part of. Dylan was always playing so I figured if I was going to go and watch then I might as well be playing. Everyone has different experiences during pregnancy and each of mine were different so I had different challenges coming back, however, something that made it a lot easier for me was staying as fit as I could during my pregnancies and also having Dylan support me when I wanted to do the extra training to get my fitness levels back up.
Q: How do you juggle parenthood with playing and manage to fit everything in?
EH: In all honesty, some days I have no idea how I do it! I have a really supportive family. My parents and my sister Sammy, who is also playing in the Origin team this year, always help me out so much. My parents, Dylan's mum and my sister will mind the kids for us out at the fields at the tournaments to make things easier for us. If we don't have any to help we just share the load between the two of us and the touch community is amazing. There is always someone out at the fields who always offers to help us mind them when we are both playing. The three kids are also very adaptable – they have learnt to sleep pretty much anywhere they fall and in any environment. They are used to our busy lifestyle and even though it is difficult, we make it work.
Q: What inspires you about each other?
EH: I love how Dylan is so talented yet so humble at the same time. He is so competitive and hates losing, but when he does he still comes off the field with a smile on his face and it shows his great sportsmanship. I love watching him play – I am in awe of his vision in the game and I am so proud of all his achievements.
DH: I love it how Emily can fall pregnant at the peak of her touch career and manage to have three kids and still come back – slotting straight back into where she left and still manages to be one of the fittest female touch players running around today. She is such a mentally strong woman – well I guess she has to be because most of the time she is looking after four kids! I'm really proud of Emily, the way she is professionally and as a mother and wife. She is an inspiration to me and anyone that crosses her path.
Picture: Glen Eaton (@captainsnappa)