Transformed Stadium Secures 2020 State of Origin
The new look C.ex Coffs International Stadium has won the hosting rights for the 2020 State of Origin Touch Football series next June.
"Securing the 2020 State of Origin is a fantastic opportunity to showcase our amazing Stadium to thousands of people from across NSW and Queensland," said Coffs Harbour Mayor Councillor Denise Knight. "I know they're going to be blown away with the fantastic new facilities and this occasion will reinforce the message that C.ex Coffs International Stadium – and the Coffs Harbour community – is the perfect venue for regional, national and international teams and visitors.
"The State of Origin series will bring an estimated 600 players along with 1200 supporters to the city, providing a significant economic injection into the local tourism and business sectors."
Coffs Harbour has had the privilege of hosting the 2015 World Touch Cup and the annual National Touch League competitions since 2012, and C.ex Coffs International Stadium is excited to welcome for the first time the 2020 State of Origin to Coffs Harbour.
"The New South Wales Touch Association is delighted to be partnering with Coffs Harbour City Council and C.ex Coffs International Stadium to bring the 2020 State of Origin Touch Football series to the area. The venue is a world-class facility and I know our players are looking forward to keeping our stranglehold on the Origin trophy, in our own state, in such a spectacular setting." said Dean Russell, NSWTA General Manager.
Ben Mannion, QTF CEO, said that Queensland Touch Football is excited to be heading to Coffs Harbour in 2020.
"The C.ex Coffs International Stadium offers top-class facilities, and we are confident the players and spectators will thoroughly enjoy their State of Origin experience. It's been over 15 years since we have claimed the Origin trophy, but I am confident we have the players and talent to see the title return to Queensland in 2020," he said.
Daniel Heather, Council's Section Leader Stadium and Major Events, said that the feedback from all sporting codes on the upgraded and new Stadium facilities has been fantastic.
"With the Building an EPIC Stadium for the future project now complete, it is great to attract and welcome a new event to C.ex Coffs International Stadium for the players, officials and many fans to come and enjoy. Dean and his team from NSW Touch Football have been so professional in the lead up to this announcement, and I am confident that we are set to see an amazing competition of touch Football in June next year!"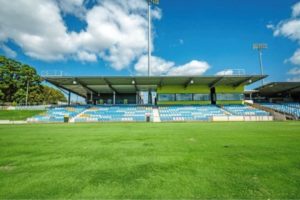 The 2020 State of Origin will be played on June 19 and 20, 2019.