State of Origin, Round 1 Recap
18 June 2021
State of Origin is one of the biggest rivalries in our sport, with Round 1 providing our player with a lot of pressure to set a standard for the rest of the tournament and our spectators with a nail-biting, edge of your seat viewing pleasure.
The two states have played a game of cat and mouse as each division battled it out for the coveted head start to the series.
Full game results here.
Men's 30 – NSW 13 vs 8 QLD
Women's 35 – NSW 3 vs 7 QLD
Women's 45 – NSW 3 vs 2 QLD
Men's 60 – NSW 3 vs 2 QLD
Men's 20 – NSW 4 vs 7 QLD
Mixed Seniors – NSW 3 vs 7 QLD
Women's 40 – NSW 3 vs 0 QLD
Men's 55 – NSW 5 vs 3 QLD
Men's 30 – NSW 4 vs 3 QLD
Women's 20 – NSW 5 vs 4 QLD
Women's 27 – NSW 10 vs 5 QLD
Men's 35 – NSW 4 vs 8 QLD
Men's 45 – NSW 6 vs 7 QLD
Mixed Open – NSW 11 vs 7 QLD
Women's Open – NSW 3 vs 5 QLD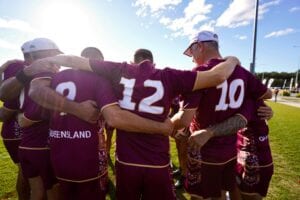 – NSW 6 vs 7 QLD
Total Wins: 7/17